FULL AUTO Quattroporte Sport GT for sale - Reduced to just £13,500 (Variators done!)
Hi All,
Selling due to Lamborghini Gallardo purchase.
Full advert here:
https://www.ebay.co.uk/itm/Maserati...593552?hash=item56ab90fdd0:g:Uy4AAOSwTIhafNlh
Loads of pictures here:
https://imgur.com/a/BoM4k
07 Quattroporte Sport GT with full auto ZF gearbox with manual paddle shift option - all important Tubi style exhaust (not too loud but sounds lovely). 79k Miles.
Full history. HPI clear. Three previous owners (one of which was my dad). Excellent condition for its year and mileage. All handbooks are present plus nav disc and spare key.
Loads of recent work (usual QP issues addressed) meaning there's no expected imminent expense:
Cam variator and solenoid replaced including the pressure relieve valve modification which prevents re-occurrence (receipt for £2700).
Lots of suspension work including: Front and rear sub frames cleaned and waxoyl treated, new front wishbone bushes and shock absorber top mounts, new anti-roll bar mounts front and rear, polyurethane inserts to rear lower wishbones fitted, previous owner replaced the anti roll bar link (still as new), JCT600 Maserati dealership has replaced the rear tie rods (this is a recall they all should have had). Finally a full geometry set up has been done and the car rides and handles superb.
New battery
Previous owner fitted new brake pads and they have lots of life left.
Two new rear tyres about 1000 miles ago. The front tyres still have around 6mm on them and are worn evenly.
Full history (13k, 26k, 41k, 50k, 66k, 72k and 77k). A mixture of main dealer and independent. The major service at 72k miles included spark plugs. The most recent at 77k included new air filter.
The exhaust intermediate silencer and mixer has been replaced with a stainless steel link pipe (Tubi style).The exhaust note is fantastic, yet not obtrusive factoring the car has double glazed glass! Standard centre piece included and can be refitted in about an hour if desired.
Only minor issues are: The satnav works when it feels like it. May improve with another disc, I haven't tried. The tyre pressure monitoring system is not working (a very common fault - it just causes a small symbol in the bottom corner of the screen so not worth fixing).
In summary a very well sorted Quattroporte that looks, drives and sounds fantastic with a small fortune recently spent. No notable rips/tears to interior or dents/scratches to exterior.
Location Fulham, London, SW6.
Any questions or to arrange to view call 07578725782.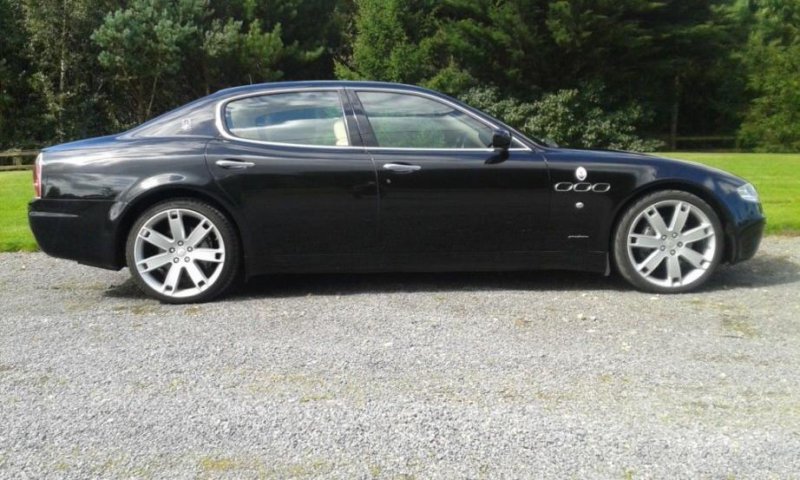 Last edited: