Hi,
I'm planning to do a full suspension overhaul during the next few months. I would document it here if there is any interest and would also like to hear your input in some questions.
Mostly gathered all the bits and pieces, only missing the ball joints for the front arms and rubber mounts for the back ones. Since some rubber pieces are quite hard to get, or are quite old - some NLA items I was able to source are from '94 - is it a viable route to let these custom made? Found some companies locally who are advertising this, but didn't contacted them yet, don't even know how it would turn out, thinking about various compounds, etc. Any experience with this?
Planning to drop both subframes, dismantle everything, sandblast, e-coat and 2k paint the bigger parts, zinc plate screws, washers, etc. Is there anything I should prepare for? One area I'm unsure is about how to support the engine while / after removing the front subframe. Is the oil pan sturdy enough to be supported by some wooden blocks from beneath, even for multiple weeks?
Upgrade-wise (car is an ABS), I've just read about the Cup springs, which are still available, so will definitely use them. But I'm wondering about the KS ARBs, are they a worthy upgrade? If it would be a good upgrade why didn't Maserati use them in the GT or Cup versions? As wrote in the other topic I have 15 mm in the back (don't know if it's original or replaced later from a QP IV), and measured 17 mm in the front, but that should be 16...
From just before Christmas: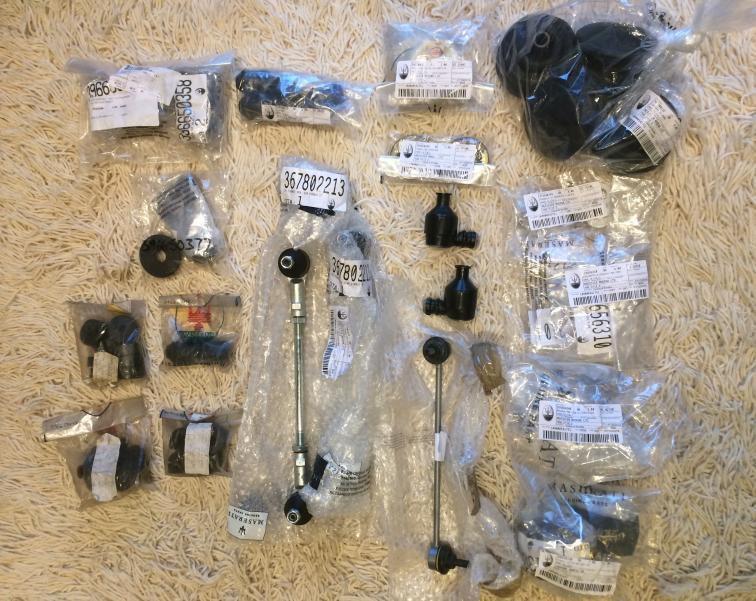 And some replacements based on the parts received:
366602133 - OPAC 0280165
366602134 - OPAC 0290165
326656310 - KOYO KH1814
Still trying to identify the TRW parts (steering gear end joint, front ARB links)