So after i replaced my air conditioning compressor I also needed to replace the dehydrating filter. Biggest issue was that I didn't want to spend 200+ euro's on a replacement oem filter (eurospares). So after I got the filter out I went looking and found the same filter is fitted to an Opel Astra/Zafira B. The most expensive replacement filter is 50 euro's. I just ordered a 20 euro and it fits perfectly. There were 2 o-rings in the package as well. I ordered a HELLA 8FT 351 193-361. It is not as sturdy as the original one. I guess a more expensive one will be a bit better. You can find the replacement filter on any automotive parts website.
Steps for removing dehydrating filter:
Don't do this with the car jacked up or on jack stands, you need leverage.
Remove the engine cover plate
Remove the rubber cap next to the condenser.
Then remove the bolt (female torx in my case, will replace that with a more standard pattern bolt).
The plug that holds the bolt needs to be pushed down to free the metal plate. I just hammered it down using a wrench socket extension and a hammer.
Once the plate is free you can pull it out.
Then you need to pull the plug up and out. We screwed in a longer bolt and pulled it out using pliers. There was a vaccuum so it needed some muscle, hence step 1.
Once the plug is out you can easily pull out the filter
Insert new filter
Put new o-rings on the plug that holds the filter down.
Oil the plug with aircon oil (PAG-46) or vaseline so it slides in easily
Push the plug in, far enough so the metal plate can slide in
Slide in metal plate
Bolt plate down
Put the rubber cap back
Call mobile airco guy to fill system back up.
With these steps and the cheap dehdrating filter everyone or any fitter can replace the filter every few years to make sure aircon system stays healthy.
old one left, new one right.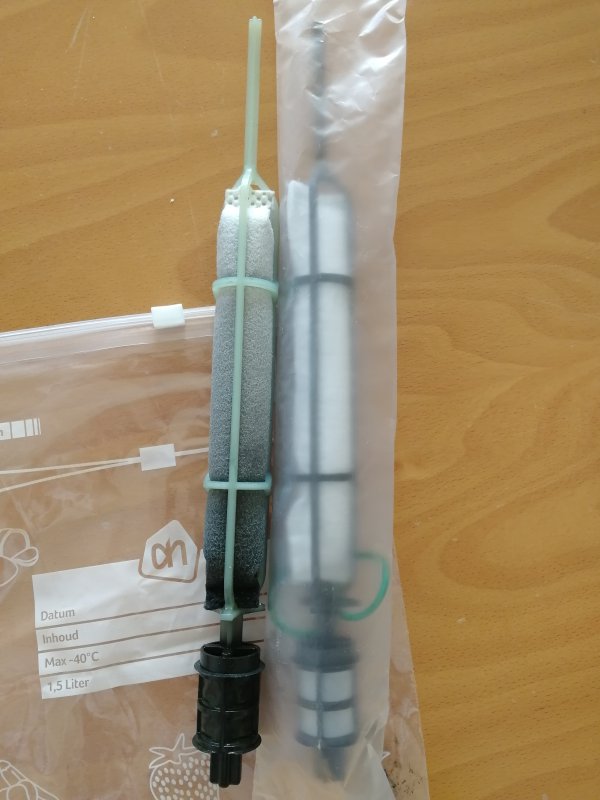 Last edited: