I visited
@Gazcw
who contacted me to sell me the SM Big Brake kit and even fitted it - what a decent chap. First off, the QP V S he is selling looks cracking - it deserves to go to a good home.
Secondly, he was pumped up on anti-histamines to prevent any hives from my red calipers - thank god for modern medicine. I have been following the SM kit and thanks to
@Zep
who remembered my interest. The two recognized shortcomings in the QP V were "glassy" steering (which I don't mind) and poor brakes. These discs were trialed by
@rossm
and then sold to GACW and have around 2000 miles on them. They came with Stoptech Street pads.
I have always felt that the standard brake setup on the QP was sub par. The pedal feel has never been firm and always long - even after a brake service and fluid change. This meant I was always braking earlier than I would in say our BMW 520 and the brake feel was not consistent. Too many times I have pressed the pedal and felt so little happen, that it has caused a little adrenalin spike before the long final shove to get the car to slow, and even then it did so begrudgingly, and in a lump. In essence it was a lot of brake, mainly at once and at the bottom of the pedal, with a variable response in stopping power as you got there!
The QP is a heavy car and having read rossm's review I had made my mind up to upgrade from the standard 360mm disks to the SM Big Brake kit when my discs next needed changing. The upgraded brake kit consists of larger 380mm disks with aluminum bells which reduces un-sprung weight despite the larger disk diameter - really noticeable when you lift them, and C hook grooves. You also get a pair of nicely milled brackets / spacers to offset the calipers for disk clearance, and all the mounting hardware required. Rossm chose the Stoptech street performance pads from Balance Motorsport (£163) as he thought they should handle a larger heat range without losing cold bite better than Brembo pads - time will tell on that one! The kit is similar to the below (mine came with some nicer black caliper spacer bars)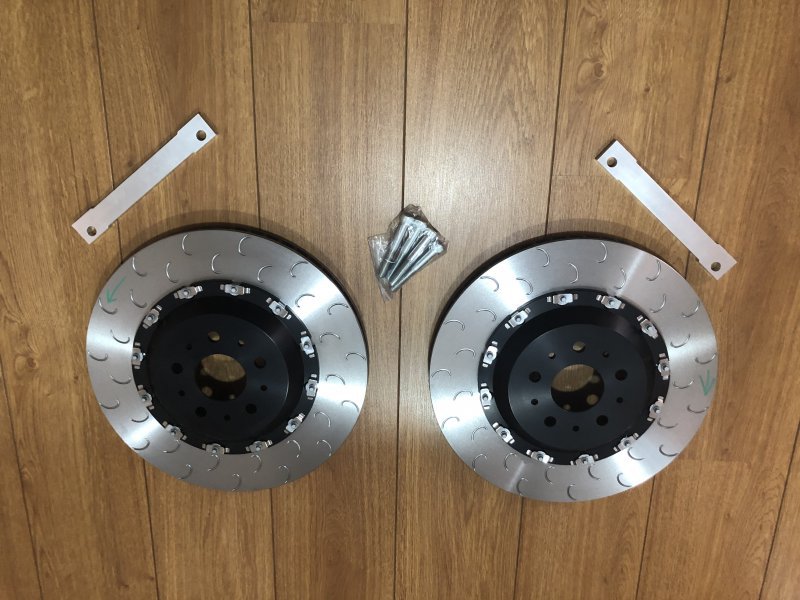 The upgraded discs look great and fill the wheel space much more than the standard discs and those red calipers......well its the only way to go!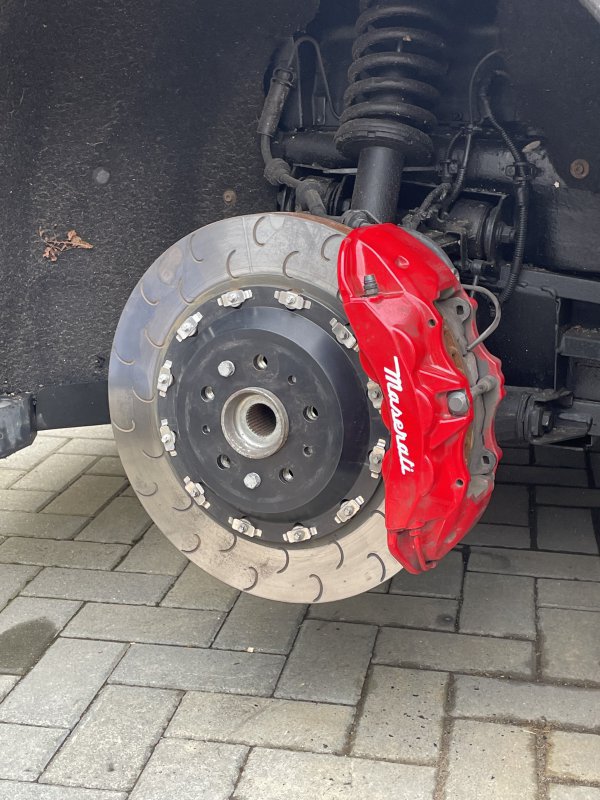 Please note this was before the application of brake cleaner!
So what is the verdict? The pads give good bite from cold, no squealing and it is much easier to modulate the brake pedal. The response starts higher up the pedal and it increases much more consistently with further travel, this gave me an immediate increase in confidence through the country lanes on the way home. The response is fairly linear in although naturally gets more progressive as you reach the end of the pedal travel. I drove 55 miles home and never experience that mild sense panic when the braking surprises you by arriving later than expected. I could detect no drop off in performance even when hot (and I went through quite a few cycles as I played around with the new brakes) and there was no loss of performance or any sense of braking imbalance with the oversized front setup. To be fair, I didn't really notice the difference from the saving in the un-sprung weight either.
This wont give you the modern braking of a German car, but the biggest improvement is in the feel and consistency (and I suspect stopping distance but I haven't measured that!) this new package provides good feedback through the pedal and a much more trustworthy response which just inspires much more confidence. This upgraded kit delivers brakes that are predictable and consistent so you can learn and adapt to the expected braking distances and drive more confidently.
This is definitely a worthwhile upgrade and I have been told by a previous reviewer that it was a no cost update on his insurance - something I will confirm with my insurer (Admiral).
So another great upgrade from SM - and great value compared to OEM
Last edited: