There has been some speculation on the forum that prices of GranSports are rising. Now, thanks to Voicey collecting prices for cars advertised on Pistonheads since last February, I can confirm that
asking
prices since then have risen by about 9%.
Below are the average monthly prices for all trade advertised cars, as well as for full leather cars only. Actually, there's one car that I've left out of the data: the 6k miles car with a custom interior advertised at Prindiville recently. That car was well outside the normal range for mileage and price, and can't really be classified as full leather or tech cloth. And why only trade cars? Private cars trade at a discount, there are smaller numbers of them and sometimes there aren't any on the market – including them would make the data more noisey. Private owners might overprice cars because they don't understand the market, or sometimes price them cheaply for a quick sale. If we want to find out whether the
typical
GranSport is going up in price then we need to keep the variables to a minimum. What you don't want is to have a month where there are no privately advertised cars (or more tech cloth cars) on the market, which then fools you into thinking that prices have risen.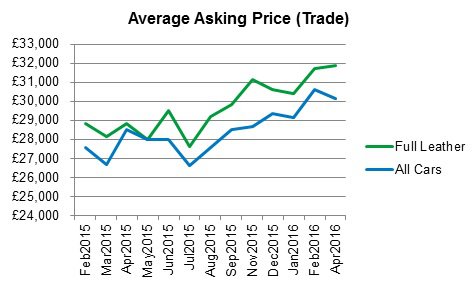 The average asking price for all cars over the period has risen from £27,583 to £30,146 (+9.3%). For full leather cars it's up from £28,848 to £31,865 (+10.5%).
Of course the prices of these cars vary a lot based on condition, mileage, spec, service history etc. There's no easy way to incorporate some of those factors into the analysis, but mileage is available for all the cars. Over the full period, the average mileage of cars advertised was 37,000, with no obvious trend to explain the rise in prices (i.e. average mileage of cars advertised has not fallen). What I have also done is to take asking prices and mileage for the cars advertised each quarter and calculate what typical cars of certain mileages would be worth. The relationship between mileage and price has been fairly stable over time: full leather cars decline in value by £2,000 for every 10,000 miles. The data below demonstrates that there has been minimal change in the value of 20k mile cars vs. 50k mile cars.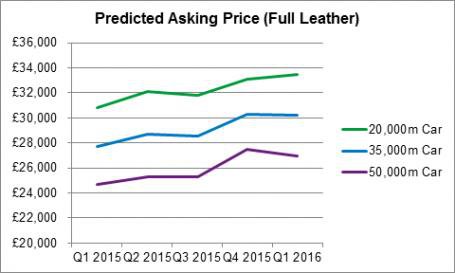 One more thing: this doesn't mean that a particular car is over or under priced because it's above or below those lines. The data includes cars of various standards. A perfectly maintained car from a known specialist with a 12 month warranty is obviously worth more than the 'average' car.
We have data for all models – if I get time I can try and do something for 32 and 4200s.