17 years ago, my wife spotted our current house for sale and, even though we were not looking to move and had recently put in a new kitchen in our barn conversion, we agreed 'there is no harm in looking'. So, we bought it. Late in 2019 I noticed Richard Grace had particularly nice choice of cars, a mint GS LE, a '16 Strad and an early model 612. Once again, I fell into the trap; 'there is no harm in looking'! It led me to swap my beautiful '14 MC Shift GTS for the Strad. As I mentioned at the time, the sum of the parts is what makes the Strad so special. It is not hugely better than the standard MC Shift car in any one aspect, but it is a noticeable step up. I had not really planned to move on but promise of strong residual values supported the man maths.
For me, the 2005 612 was disappointing. It could very well be down to the specific example but recently Richard mentioned he was selling a LHD 612 (post the 'refresh') that Ferrari had launched in 2007 – revised gearbox ECU, suspension, exhaust and he was surprised just how big an improvement it was. That car was not for me but then Richard found the perfect 612 and once again, despite not planning to sell the Strad, it was on its way back to Chester and now on to its new owner.
I am very grateful to the first owner of my '08 612 for choosing such a fantastic spec, around £40k extras including the HGTS and HGTC packages, Daytona seats and acres of Crema leather are the best ones but why stop there when ticking boxes! It is crazy to think that a £200k car requires extra cash for front parking sensors, likewise the HiFi, a Giallo rev counter and SF wing shields but I guess that is where the profit is. I am also very grateful to the second owner for running it in nicely to its current 13k miles and having it serviced every year at the same Ferrari MD, typically a few hundred miles between each service!
The car feels as close to new as possible and thanks to Ashley at SportsItalia for confirming as much, no leaks or seeps, bushes all good. Given the car was still on the Pirellis fitted at the factory and still legal, I assume it was not driven hard either. I decided to keep the tyres on the split rim HGTS 19" alloys but run the car on 20" Challenge wheels and new Michelin PS4S rubber. I was very fortunate to source a set at 74% discount from Eurospares, which is about half their second-hand value on the used market! As you can see from the pictures, the wheels came in Momo Black, and my current plan is to have them powder coated in silver as the car looks a bit too nero – if I am allowed to say such a thing in this crazy woke world! There goes my England call up!
So how does it drive and compare to the Strad? I have driven about 600 miles so far, so these are only my early observations.
They are similar in dimensions and weight, but the Strad is a better 4-seater, the 612 is really not comfortable in the back for anyone close to 6' tall, certainly behind my 6'2" frame. The extra 80 horses are slightly offset by the longer gearing, though it makes 1st more useable in the 612 around town. The V12 is certainly a highlight! Personally, I doubt I will ever discover the extra 15mph or care about the 0.5s quicker 0-60, both cars are plenty fast enough for our roads. Very few cars sound as good as a Maserati V8, even fewer as loud in standard guise! The V12 sounds a lot better with the sports exhaust on the 612 than the standard version and it has that glorious unique V12 wail, but it is not as aggressive as the Strad. The carbon brakes are more progressive on the 612 and do not suffer that slight delay in response when cold. I prefer the slightly quicker steering of the 612 but both cars handle brilliantly, 'mid front' engines help the balance greatly. One area that the 612 totally outclasses the Strad is the interior, the quality of the leather and the overall design reflects a very different price point.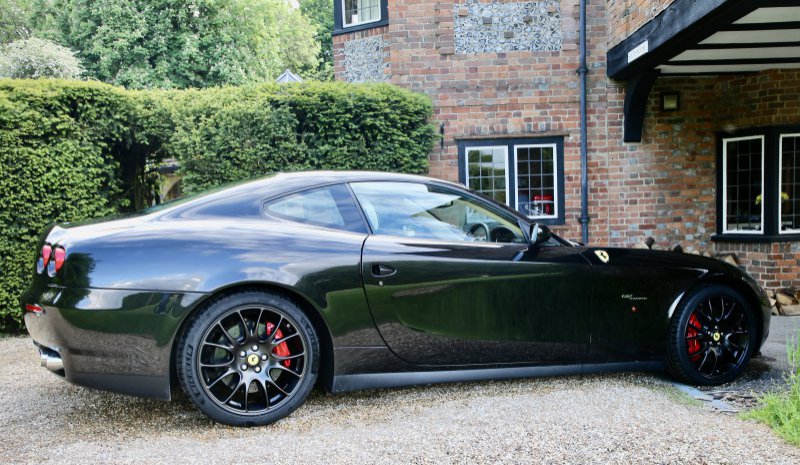 I am ever grateful to Richard Grace for helping me find and enjoy some wonderful cars confident that I am buying the very best examples. I am also very grateful to live 40 minutes from the excellent SportsItalia set up and reallyhope I do not need to call on Ashley's experience rebuilding a Ferrari V12, apparently his last job whilst at Meridian!
No longer a Maserati owner, but I do want another QPV at some point so I will lurk and continue to comment on SM as an outsider.